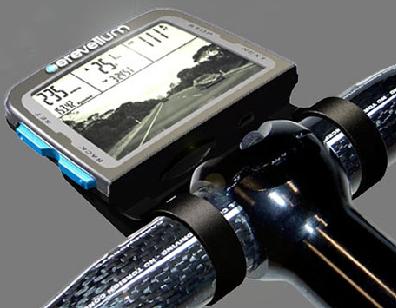 OK, folks are going to draw their own conclusions about this one. As electronics increase in power and decrease in cost, though, we imagine that we'll be seeing more and more of this sort of thing. The Cervellum is a proposed modular bicycle computer that serves to integrate functions such as GPS Navigation, traditional bike computer functions, those for a HRM or power meter and, as shown right, a rear-view camera. While the folks at Cervellum don't have a saleable
product
as yet, they've clearly done a lot of work with the concept- and it's pretty impressive.
The integration of the camera into a road bike bar end plug is very clean, though it'll have to be somewhat adjustable (my bar ends aren't perfectly level, nor are those in the image,
right). A seatpost camera is also proposed. As an industrial designer, I like the use of the part of the screen above the horizon to display other data, though ensuring legibility will require some work. My big question would be if the image will be that you'd see when you turn your head, or reversed (as in a rear-view mirror). I'd vote for the second, as it'll make the most sense for those of driving age. Better yet, it could be software settable.
Kudos to these folks for presenting something truly interesting, achievable and well thought-out. Proposed retail price is somewhere between $200 and $300, though GPS, HRM and rear-view plug-ins could easily drive that number well upward. They could take a cue from Garmin and sell packages as well as the individual modules, making it all a bit less daunting. They're looking for investors to get this thing off the ground, and we wish them luck...
cervellum.com
backcountry.com blog