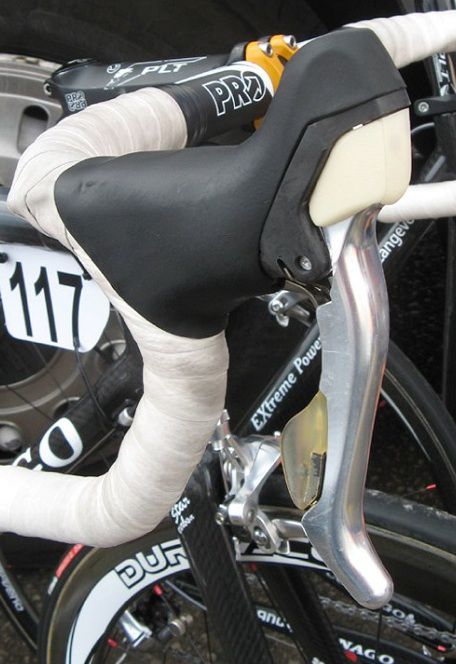 It's hard to be in product development. You've got all kinds of competing demands (customers vs managament, form vs function, cost vs performance), and on top of it all, you're trying to keep things under wraps until development is done, the product is ready, and previous versions are (hopefully) sold out. Keeping things under wraps is even more difficult when you make use of a large base of sponsored riders to vet the product before it reaches customers.
There have been rumors floating around for a while about both new electric and cable-actuated versions of Shimano's top road group (Dura Ace or 7900) on the horizon. Eagle-eyed race photo students note that shift cables are run under bar tape. You can expect smoother shifting, a sprinkling of composites (see XT and XTR), lighter weight and higher prices (thanks in part to a the weakest dollar in recent history). None of these would be surprises coming from Shimano. Today,
VeloNews
' Matt Pacocha goes into some detail in describing the case of a certain retailer who published some 2009 Dura Ace information on their website- and the fallout that resulted.
Now, as we all know, Google has some neat and powerful tools- many hidden in plain sight. Say a web page has been taken down. If it's been indexed by Google, it's also been cached by Google. Be careful what you put on your Facebook pages, kids. Of course, the info may also have been posted on other
blogs
in the meantime. Shimano does a good job, for the most part, not releasing products until they are ready.
Getting folks prematurely excited about vaporware means that they may be bored with a product by the time it's actually available and may give competitors a leg up. Still, it's hard not to look...
www.velonews.com